High Pressure Universal Design Non Return Valve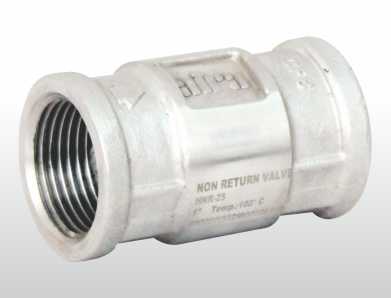 Specifications
Size Range
1/2" to 2" Screwed
Media
Air, Water, Oil & Gas
Ends
Screwed (F) to BSP (NPT On Request)
We Aira Valve Automation Engineers are recognized for Non Return Valve in Bangalore. Among our products are non-return valves, high pressure non-return valves, non-returning valves, and we are also known as non-return valve manufacturers in Bangalore. In addition to meeting international standards, our services are affordable. Additionally, we offer corrosion-resistant non-return valves with long service lives. No maintenance is required for the Superior Design, which can be installed anywhere along the pipeline.
We not only produce non-return valves that can withstand pressures up to 3000 PSI, but we also manufacture valves that can withstand temperatures as high as 100°C. With its leak-proof design and available end connections such as Screwed (F) and NPT (NPT can also be ordered) it is suitable for air, water, oil, and gas.
Our products are built to the highest standards so that they perform well and last for a long time. We are one of the prominent Non Return Valve suppliers in Bangalore. The valve manufacturing industry has been served by us uninterrupted for over three decades.